TonyGists App 3 Out Now. Download from Play store
https://play.google.com/store/apps/details?id=com.TonyGists.TonyGistsapp
Nigerians have taken to twitter to share their opinion on the fight between Frodd and Seyi over alcohol. Many people think Seyi is too proud and none of the housemates have been able to put him in his place.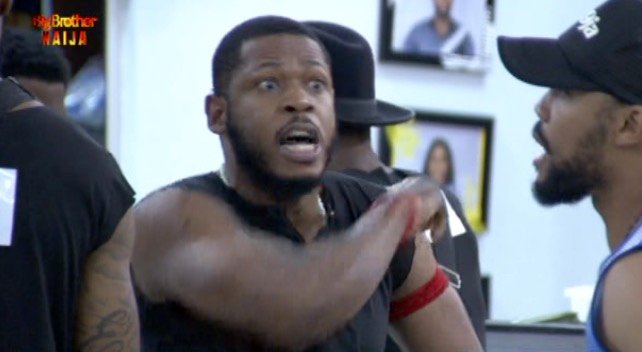 Well, Frodd who could not control his anger tonight gave him his piece of mind and the quarrel almost escalated to a big one but the intervention of the other housemates put the raging issue under control.


Recall that during their rehearsal for a talent show challenge assigned to them by Biggie, Mike and Seyi got into an argument. Mike who was making fun of Seyi's statement about the shape of the earth got Seyi angry and he immediately shut him up, and walked out on his team. This did not go down well with Mike as he immediately confronted Seyi. He accused him of not being a good leader and ordered him to stop being over sensitive about some matters.


Yassssss Frodd give it back to Seyi real hot 🥵

"Wetin concern us with your lineage"

I love that word from FRODD. They need to put him in his place. He wants to be forming what he's not. If u wan feel too important why follow dem come biggie house dey drag 60Million

#BBNaija pic.twitter.com/da2GdTJn6P

— 𝓣𝓮𝓪𝓶 𝓜𝓲𝓴𝓮 (@IAmVicksman) August 16, 2019
Seyi gave Frodd hell, when he was HOH.

Now Seyi is the HOH, Frodd is giving him back in equal dose!

👏👏💃💃💃

#BBNaija#BBNaijia

— Kike (@officialkikeomo) August 16, 2019
— #BBNaija2019Dollar Angel (@DollarAngel2) August 16, 2019
Are You On youtube? subscribe to our Latest Updates - @tonygists
Are You On youtube? subscribe to Xtremely Honest Channel Latest Updates - @Xtremely Honest
Are You On Twitter? Follow Us Now For Latest Updates - @tonygists1
Are You On FACEBOOK? Like Our Page For Latest Updates - tonygists
Are You On FACEBOOK? Join Our Group For Latest Updates And Interactions - TonyGists
© 2020 Tonygists | Portions are © 2020 Associated Press. All rights reserved. This material may not be published, broadcast, rewritten, or distributed.
Share This Post Via