TonyGists App 3 Out Now. Download from Play store
https://play.google.com/store/apps/details?id=com.TonyGists.TonyGistsapp

Aritz Aduriz who is 38 years old, scored a remarkable overhead kick to give Athletic Bilbao a 1-0 win over defending champions Barcelona in the opening match of the 2019/20 La Liga season on Friday night. The match looked destined to end in a goalless draw when Aduriz scored with his first touch of the game in the 88th minute having replaced Inaki Williams a minute earlier. The former Valencia striker's goal summed up what was a frustrating night for Ernesto Valverde's side who played the match without Lionel Messi and Philippe Coutinho, who is reportedly close to joining Bayern Munich on loan.


After the match, Barcelona fans took to social media to criticise Antoine Griezmann and Ousmane Dembele for their woeful performance against the Basque side. Griezmann was bought from fellow La Liga rivals Atletico Madrid in a deal that worth a fortune and was criticised not only by the fans even by the coach Ernesto Valverde who claims the Frenchman needs to do more and get into play.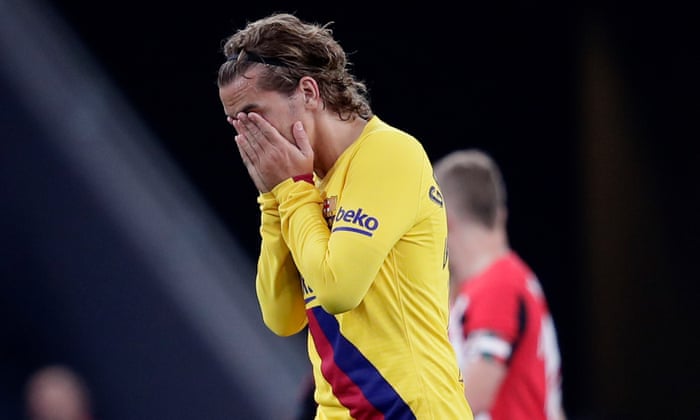 The France international didn't register any shots on target during the entire 90 minutes of play.

Griezmann against Athletic Bilbao

90 Minutes played

0 Shots on target

0 Goals

0 Assists

50% Dribble success

1 Key pass

#Aduriz #Barca #Dembele #Valverde #Barcelona pic.twitter.com/4jyOeQsziO

— 442stat.com (@442stat) August 16, 2019
I have said it before and I'm still saying it. This guy is overrated.

— ssaamm (@papypsalm) August 16, 2019
Was to be expected.. I always thought that he was massively overrated

— Kyle Chambers (@KyleCha47665605) August 16, 2019
He had a very very poor game. He better wake up this is

@FCBarcelona

— PURE ASSIN BOY (@QwaquQwaqu) August 16, 2019
Thoughts on Athletic Bilbao vs Barcelona

#FCB

:

#Messi

– Griezmann was a spectator

– Dembele is a fraud

– Alba is becoming a liability

– Suarez injury not a blessing in disguise

– Rafinha impressed

– Not a bench worth winning the league

– WE ARE NOTHING WITHOUT MESSI

pic.twitter.com/uBXzL6VOfq

— Hamzagujjar313 (@hamzagujjar313) August 17, 2019
Can we talk about how Barcelona's performance was just disappointing last night? No communication whatsoever… Griezmann was really awful hey. TBH Athletic really deserved to win, woah and Aduriz' goal

#Laliga

— Lientjies (@Lientjies3) August 17, 2019
Are You On youtube? subscribe to our Latest Updates - @tonygists
Are You On youtube? subscribe to Xtremely Honest Channel Latest Updates - @Xtremely Honest
Are You On Twitter? Follow Us Now For Latest Updates - @tonygists1
Are You On FACEBOOK? Like Our Page For Latest Updates - tonygists
Are You On FACEBOOK? Join Our Group For Latest Updates And Interactions - TonyGists
© 2020 Tonygists | Portions are © 2020 Associated Press. All rights reserved. This material may not be published, broadcast, rewritten, or distributed.
Share This Post Via