Now, rumour mongers and naysayers can slow their roll and hop on to the next gist as wealthy businessman cum politician, Hon. Ned Nwoko, has officially wedded his love interest, the teenage actress, Regina Daniels. Nwoko, a former member of the House of Representatives, is 59 while his new bride was born in the year 2000.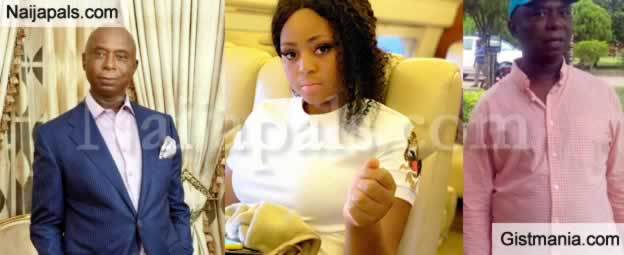 Sources told TonyGists that an introduction ceremony held last weekend in the bride's family home in Asaba, the Delta State capital. It was a hush-hush affair as the few family members invited were instructed not to take photographs. There wasn't much glitz as many would have wanted and everybody complied with the wish of the couple to have a discreet ceremony. More so, there was not much to make noise about given that it is Nwoko's sixth marriage among numerous dalliances with older actresses.




Regina came into limelight as a seven-year-old, featuring in a slew of Nollywood movies. Her mother, Rita Daniels, is also an actress. Currently, a Mass Communication student of the Igbinedion University, Benin, she became a social media sensation recently when she started flaunting luxury on her Instagram page. From flying private jets to different parts of the world to flaunting luxury cars, she became the kind of newsmaker acting never afforded her.

The blogosphere went into overdrive when she claimed to have bought her mum a mansion followed by the acquisition of a new Rolex wristwatch with the receipt bearing N3million. All these acquisitions were within one month. Of course, there were questions about who was financing her but nobody could emphatically say. It was until recently that Nwoko's name began to fly in the air as Regina's paymaster. Now, he has put a ring on it and ended speculations.


Follow us
Twitter:
@tonygists1
Facebook:
@tonygists1
Instagram:
@tonygists
Instagram 2:
@tony_gists
Youtube:
@Tonygists
YouTube 2:
@Tonygiststv
Are You On youtube? subscribe to our Latest Updates - @tonygists
Are You On youtube? subscribe to Xtremely Honest Channel Latest Updates - @Xtremely Honest
Are You On Twitter? Follow Us Now For Latest Updates - @tonygists1
Are You On FACEBOOK? Like Our Page For Latest Updates - tonygists
Are You On FACEBOOK? Join Our Group For Latest Updates And Interactions - TonyGists
© 2020 Tonygists | Portions are © 2020 Associated Press. All rights reserved. This material may not be published, broadcast, rewritten, or distributed.
Share This Post Via