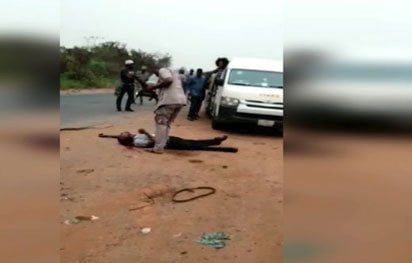 In one of the videos sighted by
TonyGists
, several commuters were seen arguing with customs officials, while commuters from other vehicles watched on.
A passenger was heard warning an official not to touch his phone, while some others were arguing with another official.
While the continued, a voice was heard saying, "Shoot him" and a gun went off immediately after.
Some people at the scene fled after heard the sound of the gunshot while others repeatedly shouted that the customs officials have killed someone.
In the video, one of the Customs officials, who lifted the man's hand and realised that it fell to the ground, tried to get back into the official van of the customs but the apparently furious at the scene of the incident prevented the official and his colleagues from leaving the scene.
A lady in the video was heard saying in Pidgin English: "Customs don kill person, make una help them, una no dey go today."
"Customs has killed someone because of N5,000. We are coming from abroad," she added.
The moment after the videos went viral, Nigerians took to the micro-blogging site, Twitter to berate the Customs officials over the ugly act.
TonyGists
captured some of the reactions below


Follow us
Twitter:
@tonygists1
Facebook:
@tonygists1
Instagram:
@tonygists
Instagram 2:
@tony_gists
Youtube:
@Tonygists
YouTube 2:
@Tonygiststv
Are You On youtube? subscribe to our Latest Updates - @tonygists
Are You On youtube? subscribe to Xtremely Honest Channel Latest Updates - @Xtremely Honest
Are You On Twitter? Follow Us Now For Latest Updates - @tonygists1
Are You On FACEBOOK? Like Our Page For Latest Updates - tonygists
Are You On FACEBOOK? Join Our Group For Latest Updates And Interactions - TonyGists
© 2020 Tonygists | Portions are © 2020 Associated Press. All rights reserved. This material may not be published, broadcast, rewritten, or distributed.
Share This Post Via